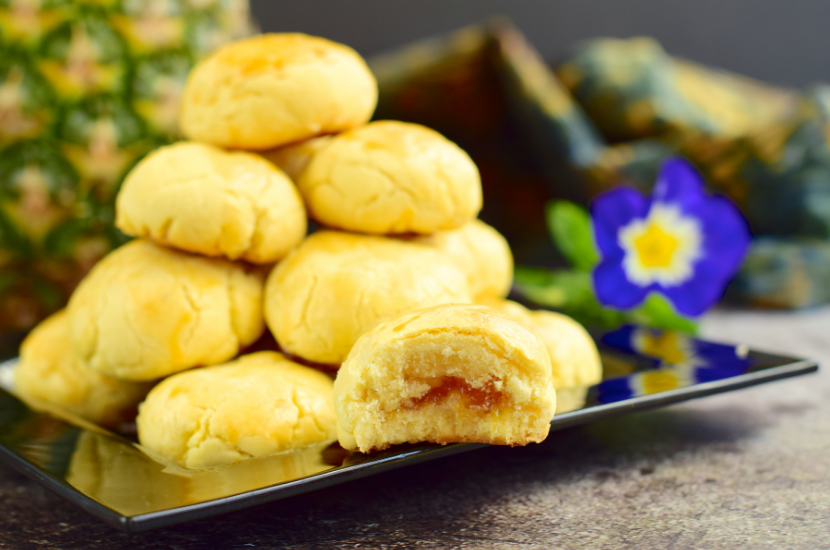 Best Chinese New Year Cookies in Singapore
Cookies have become a staple in Chinese New Year feasts. With so many cookies available in the market, we have narrowed down some cookies that we think we cannot go without, as well as those that bring fond memories for the pioneer generation. Read on to find out more.
Pineapple tarts
Pineapple tarts are the mainstay of Chinese New Year cookies. They are called ong lai in Hokkien and Cantonese, which means "prosperity come". Pineapples represent wealth and prosperity as they are golden in color. As a result, pineapple tarts are an essential in every home and they make a very good gift. Here at cnycookiesg, we offer the best buttery pineapple tarts that are guaranteed to satisfy your sweet tooth. Sweet in the centre (but not overly so) and buttery all around, our mouthwatering pineapple tarts are a must try. Choose from a variety of pineapple tarts, such as the Flower Blossom, the Golf Ball, and the Golden Pillow. You'll come back wanting for more!
Kueh Bangkit
Kueh bangkit is a traditional cookie, originally made in the past in China as an offering to one's ancestors. It is called kueh bangkit because the batter will rise during the baking process and the word for "rise" in Malay is bangkit, hence its name. This creamy white snack is charcoaled to bring out the rich coconut flavour and it has a nice melt-in-the-mouth texture to it. As a result, once you eat one cookie, you will reach for more. Since it is such an easy to eat cookie, the kueh bangkit is suitable for all ages and thus is a top choice amongst our selection here.
Almond cookies
Almond cookies taste buttery, nutty and have a crumbly texture. They are extremely tasty and are usually paired with coffee or tea. Almond cookies are eaten during Chinese New Year as they resemble a coin, and hence eating them is thought to bring in fortune and wealth. Furthermore, almonds are very nutritious nuts, containing vitamin E which has antioxidant properties that prevent cell damage. They may also help to lower "bad" cholesterol levels and therefore reduce the risk of heart illness. A word of caution: They are so delicious that you may have to refrain yourself from overeating!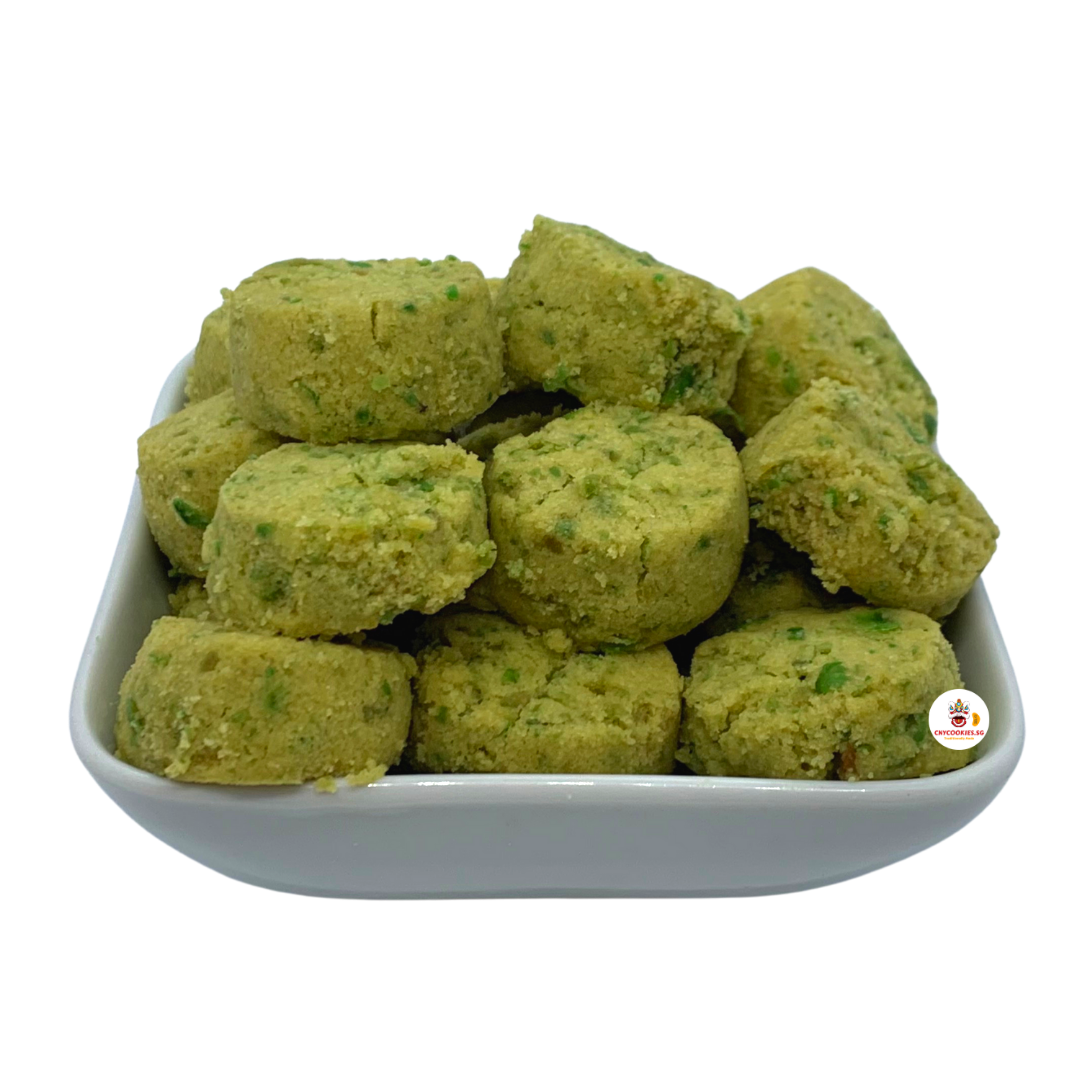 This botanical looking cookie adds a playful twist of colour to your Chinese New Year cookies collection, so why not? Having green peas in your cookies is also a good way of incorporating them into your diet. They have a slightly sweet taste and the green pea bits inside them add some texture to the cookies. They are so tasty that even those who are apprehensive about eating green peas enjoy these cookies, so try some today!
Danish cashew nut cookies
Like almond cookies, cashew nut cookies have a crumbly texture and a nutty taste. However, they taste creamier and butterier, as is the inherent flavour of cashew nuts. Although they are not very traditional, they are well-loved by many and make for a good snack in-between conversations and hearty laughter.
Peanut cookies
Peanut cookies are eaten during Chinese New Year as they represent longevity and fertility. This is because the Chinese word for peanut is hua sheng (花生), whereby the word sheng means to "give birth". Thus, peanut cookies have a symbolic meaning and are a favourite amongst aunties who have wishes for their relatives to bear children.
Macadamia sugee cookies
Sugee cookies are 'oh-so' delicious. They can be made with macadamia nuts, cashew nuts or almonds – it depends on your preference. Sugee cookies are different from other cookies because of two key ingredients, ghee (which is called clarified butter) and sugee (semolina flour). These ingredients result in the cookie having a buttery but more sandy and crumbly texture than other cookies. The macadamia sugee cookie has both a sweet and savoury taste, which is why it is so delicious. Sugee cookies can be found in Bengawan Solo stores.
Fortune cookies
Fortune cookies, as the name suggests, contain slips of paper embedded in the cookie that "reads" your fortune. Words of blessings, prophecy or encouragement are written on the paper and when opened, surprises the owner of the cookie. Although they are not a traditional Chinese New Year snack, they are a great way of blessing and bringing joy to others when they unravel the hidden message. Fortune cookies thus make a great gift choice this Chinese New Year season.
Ribbon cookies may look ancient to the Generation Z people, but the older generation aka your grandparents have probably seen them before. They are mostly found in Malaysia but the traditional biscuit shops in Singapore may sell them. They are made of flour and have some white or black sesame seeds sprinkled onto them. Get some for a touch of nostalgia and eat them as you bring back fond memories with your family.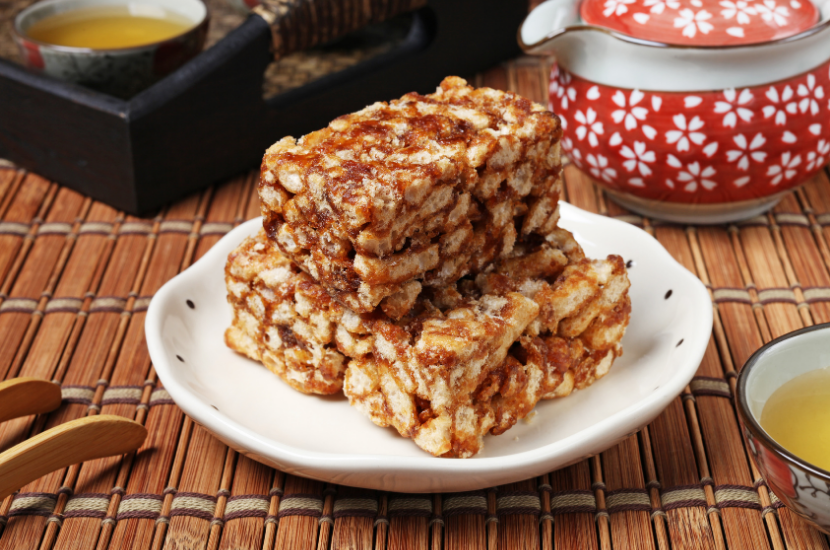 Sachima (杀骑马) are egg dough strips fried and arranged into blocks, with a coat of honey or maple syrup on them. They are a popular snack in China and Hongkong, as it is believed that they bring good luck. They taste like sweet rice crackers and hence are a delicious snack for those who love a good crunch. They are also a nostalgic snack that only the pioneer generation may recognise. You can find these fresh and handmade crackers from "Pan Ji Cooked Food" at Chinatown Complex (which may be the last of this generation).
Conclusion
All in all, these cookies sound enticing and delicious; so much so that I can almost feel my hunger pangs kicking in. Jokes aside, treat yourselves and your family to these cookies this festive season and we wish you a Happy Chinese New Year filled with bountiful laughter!